DESCRIPTION
Family in action! "Explore the World" Treasure Hunt is organised for you and your family!
School holidays had come to an end. The new school term is starting soon…
Some of you may have travelled around locally or overseas. Traveling helps children to explore the real World.
During this new school term, MBMT is organising a treasure hunt in Bukit Jalil Recreation Park for families.
Join us to "Explore the World" with various building blocks to:
1.Stimulate children's creation power and creativity
2.Encourage family bonding
3.Unleash logical ability and conceptual thinking
4.Encourage teamwork and leadership
Treasure Hunt Details:-
Date: 23/02/2020 (Sunday)
Time: 430pm (Registration starts at 415pm)
Venue: Bukit Jalil Recreation Park, KL
Registration Fee: RM58/family (Parents + up to 3 children)
How is the Treasure Hunt works:-
Each family work as a team
Instructional map is given to each team
Find all the required building blocks in the park at the "treasure" points
Build the required creation as per the given instruction cards
Children are required to present their creation at the end of the session
Terms & Conditions:-
Suitable for family with children 4 - 12 years old.
Parents are required to participate in the whole event.
Attire: blue t-shirt with sport attires.
Registration start at 415pm sharp. Late comers will not be entertained.
Prizes are given to all winners, T&C apply.
Registration fee is non-refundable.
The Organiser reserves the right to adjust the requirements of the event.
Prizes:-
Champion: STEAM Discovery Pack (Worth RM495) + Mideer 16in1 Board Game (Worth RM159)
First Runner Up: Fun Learning Program Series (Worth RM299) + Mideer "Wandering thru the Space" Puzzle (Worth RM99)
Second Runner Up: Fun Learning Program Series (Worth RM199) + Mideer Block Buddies Tangram (RM59)
Consolation Prizes: Mideer Rotating FlyWheel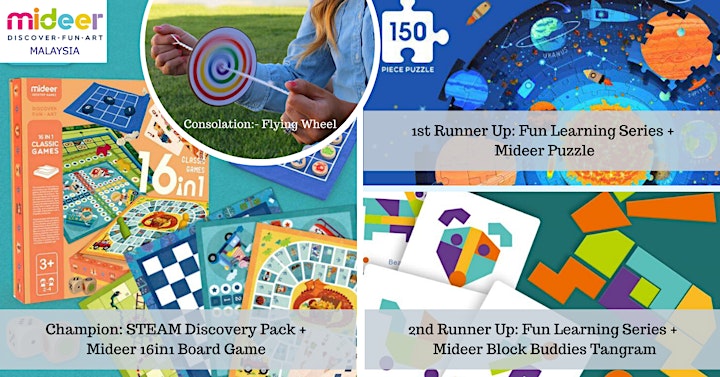 LOCATION MAP